Customer Self-Service: A Cheaper Way to Assist Your Customers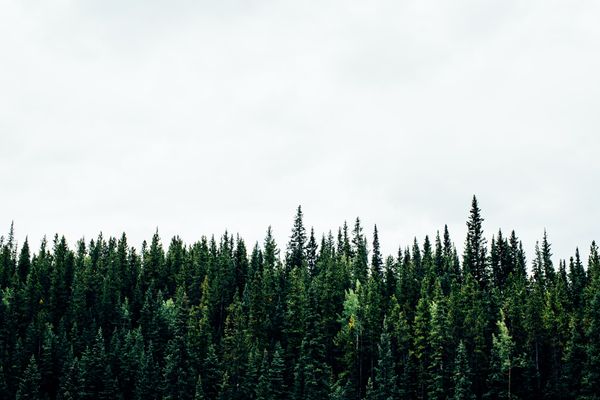 ---
What if you could reduce your customer service costs by a quarter and still keep the same level of service? This "what if" is possible with customer self-service (CSS)—a concept that provides customers with the tools to take care of their own inquiries. Customer self-service has become the latest buzzword in the world of customer service. It is used to give customers access to information and content while improving the customer experience overall.
What is Customer Self-Service?
Customer self-service is a key element of customer engagement. It refers to the method by which companies can interact and assist their customers through the use of applications and other technologies. Even without assistance from the company, they can still perform tasks such as managing their account information, requesting services or products, or providing feedback.
Companies are using customer self-service technologies to improve their business processes, build new revenue streams, enhance customer loyalty, and improve customer service.
Why Should You Provide Customer Self-Service?
Customer self-service is making its way into the digital era and has redefined the way we look at customer service. It allows customers to place orders, check status, and track packages all from the comfort of their homes. This is great for businesses because it changes how they engage with their customers. However, not all companies have embraced this change in customer service methods.
So, should you provide customer self-service in your business? The answer is simple: You should provide self-service options for your customers that want to get their own solutions. Here's why.
Improve Customer Experience
A customer self-service strategy is a great way to improve customer experience and be more engaged with your business. Through the use of this method, they can manage their accounts, request products, and more from the comfort of their homes. This lowers frustration levels especially when a simple query takes days to be answered due to the long queue.
Save More Money
Providing customer self-service allows you to assist and make your customers satisfied at a much lower cost. With the help of customer self-service, you don't need to hire additional staff in order to accommodate all the queries and calls you are getting from your customers. You can automate certain processes such as issuing refunds or canceling orders. You can also create easily accessible information and guidelines so that they know how to use the self-service tools available to them.
Boost Productivity
Finally, customer self-service allows you to boost productivity. You can reduce the amount of time you and your employees need to spend providing service. As a result, it can help you to focus on providing high-quality products and services.
5 Tips to Create a Good Customer Self-Service
Customer self-service is one of the things that you can do to improve your business. Aside from the benefits mentioned above, customer self-service can also improve customer satisfaction and increase customer loyalty.
Here are the tips to help you create a good customer self-service.
Have an Automated Call Center
An automated call center is a telephone service that allows companies to receive customers' calls and provide assistance through automation. In this method, you can take the load off of your support team. This means that you don't need to keep a queue of people waiting for their turn to speak to a customer service support representative. With an automated call center, customers can easily access information about their transactions and receive responses quickly.
Build Your Custom Chatbot
A chatbot is a software program that uses artificial intelligence (AI) to help you communicate with people through a chat interface. It can be used to assist you with customer service, customer support, and other activities. It allows you to provide customers with quick and easy access to the information they need through live chat. This is especially useful for new customers that usually ask common questions about the products or services you are offering. Or for users who need assistance with email password recovery. Instead of a live agent, the bot will be the one to assist your customers.
Post Engaging Questions on Community Forum
A community forum is a website or software application where people from around the world can communicate with each other about a topic of their choice. Forum users can post messages, respond to messages, and vote on messages. They, who have registered with the forum, can also update their profile information, join discussion groups, and create polls.
To create a great self-service experience, you can post engaging questions on your community forum. This strategy allows you to keep the forum active, relevant, and interesting for everyone. On top of that, you can ensure that your audiences have the opportunity to ask questions on common issues and provide feedback. Through their feedback, you can get ideas on how to improve your service and build a stronger connection with your customers.
Include an FAQ Page on Your Website
FAQs or Frequently Asked Questions are a collection of articles or questions that offer guidance about a certain topic. They are usually located on the website or application's main page and designed to help users quickly find the information they need. FAQ pages can also be used to answer common questions that your customers might have. Additionally, FAQ pages can be used as a marketing tool to promote your services and products.
Create a Knowledge Base Portal
Finally, you should create a knowledge base portal to deliver fast and accurate answers to your customers. You can use a knowledge base tool to make it easier for you to create a help center wherein you can publish knowledge base articles, support content, and demo for self-service solutions. Using a tool also, you can easily store information so you can provide real-time support to your customers.
What is Answerly?
Answerly is an all-in-one platform for Content Management System (CMS), contact forms, and widgets. It has hundreds of features that allow you to build a customer self-service for your business. With its rich-text answer editor, you can build a powerful knowledge base and help desk so you can respond to your clients in a timely manner. You can also customize your contact page based on your brand's theme and design. On top of that, Answerly provides you with reports and statistics on how your customers are utilizing the Knowledge Base so you can provide better assistance and support to them.
How to Create a Personalized Knowledge Base Using Answerly?
Answerly is a powerful tool yet it is easy to use that even beginners will not find any difficulty using it. Here is the step-by-step tutorial to help you out create your first personalized knowledge base.
Sign up to our website Answerly
Once you are done creating your Answerly account, the first thing you will see is the dashboard. Here, you will see the report and statistics for:
Today's Searches
People Helped Today
Answers Read
Knowledge Base Visitors
You can also write an answer, create a category, invite a colleague, and embed code instantly by clicking the respective icon or button.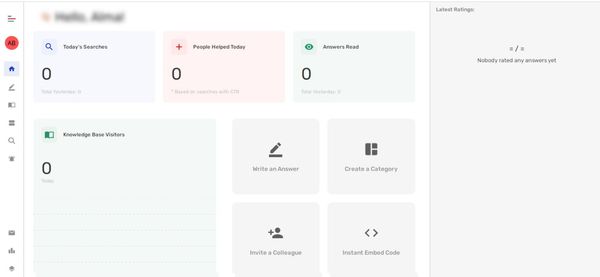 Click on the menu icon to expand the panel.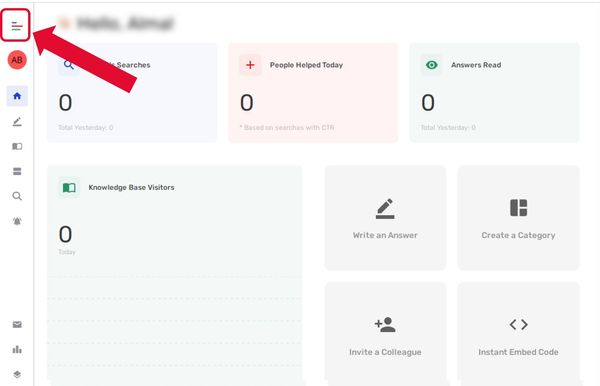 Begin creating your Knowledge Base by clicking first on Write.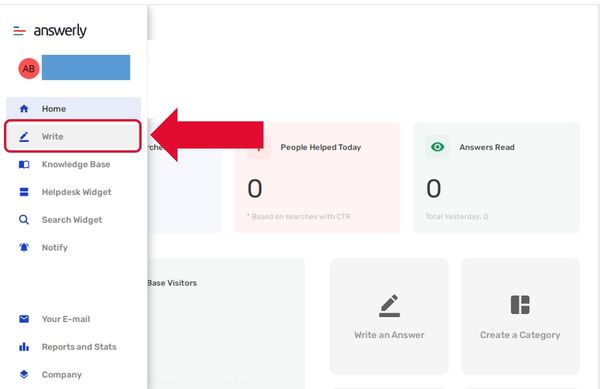 Click Category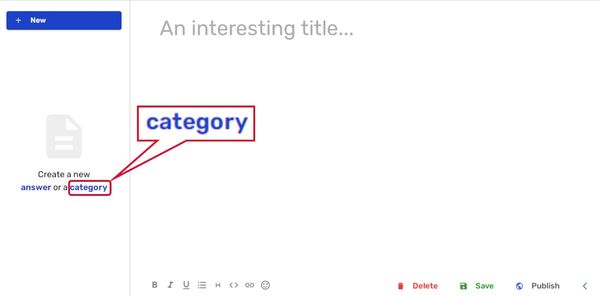 Enter the Category Name. Then, click on Add.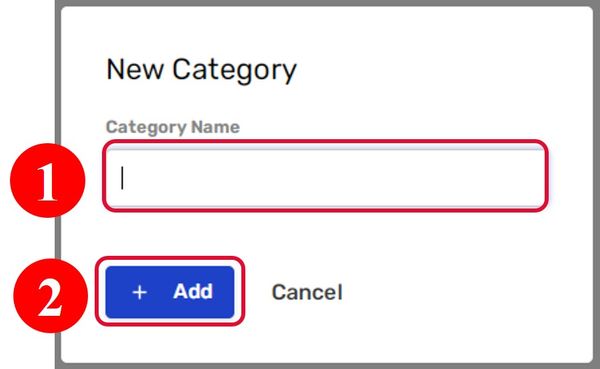 Then, you need to put a Category Description. You need to keep your description short and one line. Once done, you can click on Save or Publish.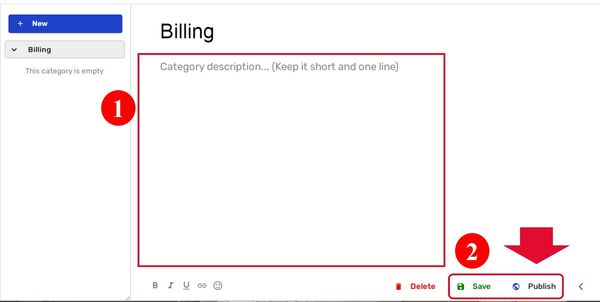 Click on New. This time, click on New Answer.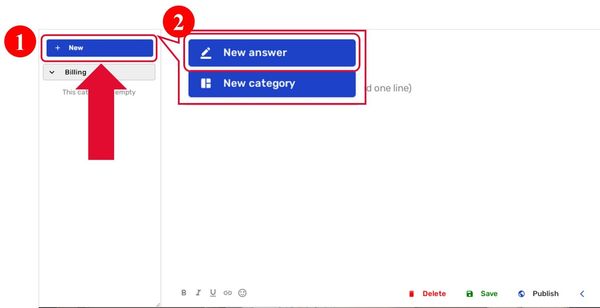 Click on the arrow down to select a Parent Category. Then, enter the Answer Title. Finish it off by clicking the Add button.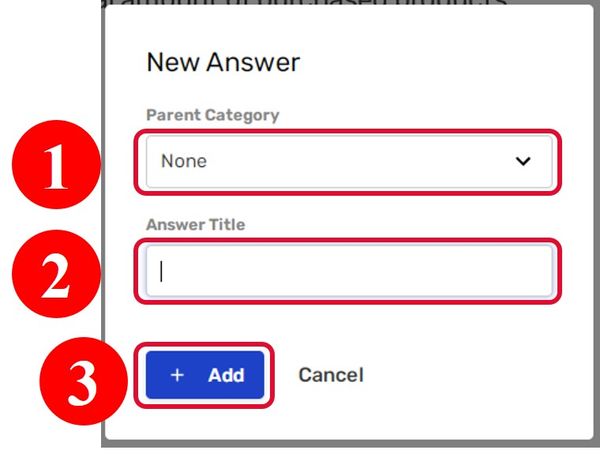 Enter your answer. Once done, you can choose to Save or Publish it. Repeat the process until you are able to add all the categories and answers needed for your business.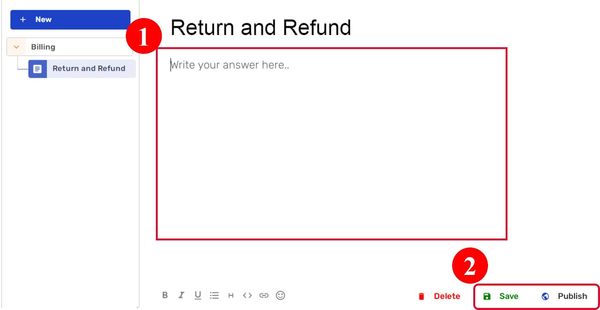 Click the menu icon once again and click on Knowledge Base.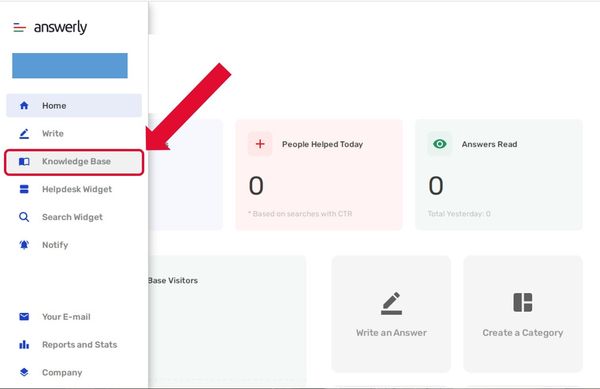 Upon clicking it, you will see the Knowledge Base dashboard. As you can see, the settings are composed of various buttons that you can click to personalize your Knowledge Base according to your branding. For each personalization setting, you can edit or do the following:

Look and Feel - This is where you can edit or change your template, headline, hero background, header and footer logo, as well as fave icon.
Color Studio - This is where you can edit your palette.
Navigation - This is where you can add links (header and footer).
Integration - This is where you can enable integrations such as Google Analytics, Google Analytics Tracking ID, Google Tag Manager, etc.
Social Links - This is where you can add links to your social media pages such as Facebook, Twitter, Instagram, LinkedIn, YouTube, Reddit, and GitHub.
Contact Page - This is where you can edit or customize your contact page.

Once you are done designing it, click on Apply to incorporate all the changes you created.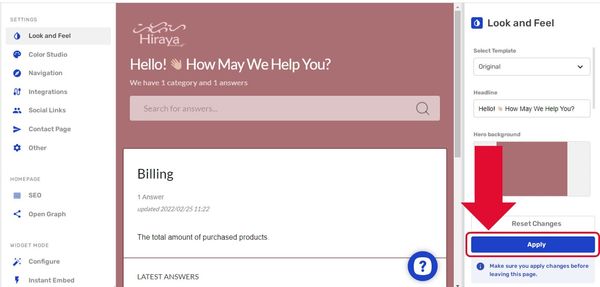 Final Thought
In the modern world where technology is progressing at an exponential rate, business owners need to stay on top of smart technology to stay ahead in their market. This is where customer self-service comes in handy. It is the new way of doing business that both customers and businesses can benefit from.
About the Author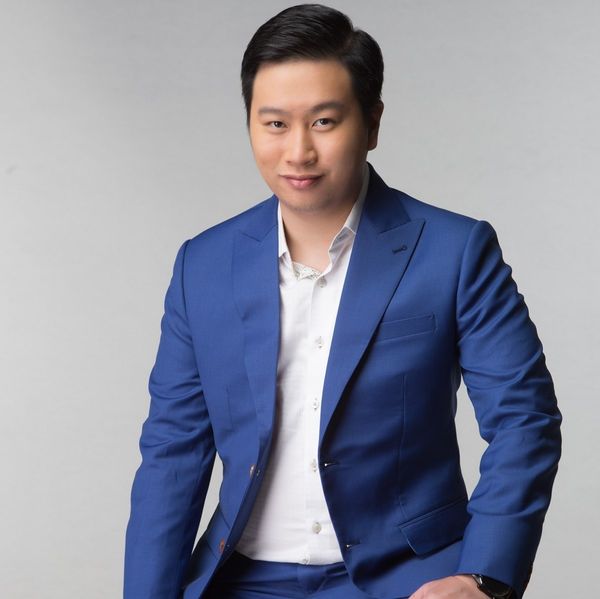 Henry Hoe is a multiple seven-figure eCommerce business owner with years of experience selling on WooCommerce, Amazon, Qoo10, Lazada, Shopee, and eBay. He specializes in SEO and email marketing as well as business automation. He started DecisiveMarketer to help business owners build their careers and refine their digital marketing plans without missteps that come with doing it alone.